Paul Joseph, CPA, CGMA, CFE, CFS
Serving Your Accounting and Tax Needs
We offer you a solution for all those concerns and more – a CPA who is a specialist in Accounting, Comprehensive Tax and Payroll Services is available to help you solve all the issues that are currently slowing down operations and soon you will have things running smoothly again. In addition to the time and effort saved you save in cost too since the Accounting and other Services are handled offsite... Now isn't that incredible? At Paul Joseph CPA we take great pride in offering value to every client.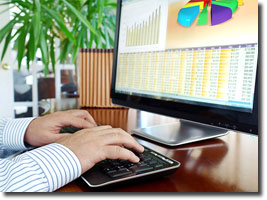 So, even though we tailor the services to match your specific needs you don't have to break the bank to pay for our services - customized solutions at down-to-earth fees.
We can solve your accounting problems for a cost that will surprise you. Handing off your bookkeeping burden to Paul Joseph CPA accounting services will allow you to focus on the core issues of your business, such as growth. Having accurate accounting of your books will allow you to make more informed decisions concerning your business.
Accounting Experience
20 years of accounting experience serving both retail service and not-for-profit organizations
Years of general accounting, payroll and payroll tax filings: more than 20 years
Years of tax preparation: more than 18 years
Years of tax auditing: 5 years
Years of tax analyst: 4 years
Years of forensic auditor: 10 years
Years of creating and maintaining databases: 10 years
Masters in Accounting
Masters in Management Information Systems
Quickbooks & Peachtree expert
Testified in Federal and State Courts